Vodia Mac O.S Softphone Client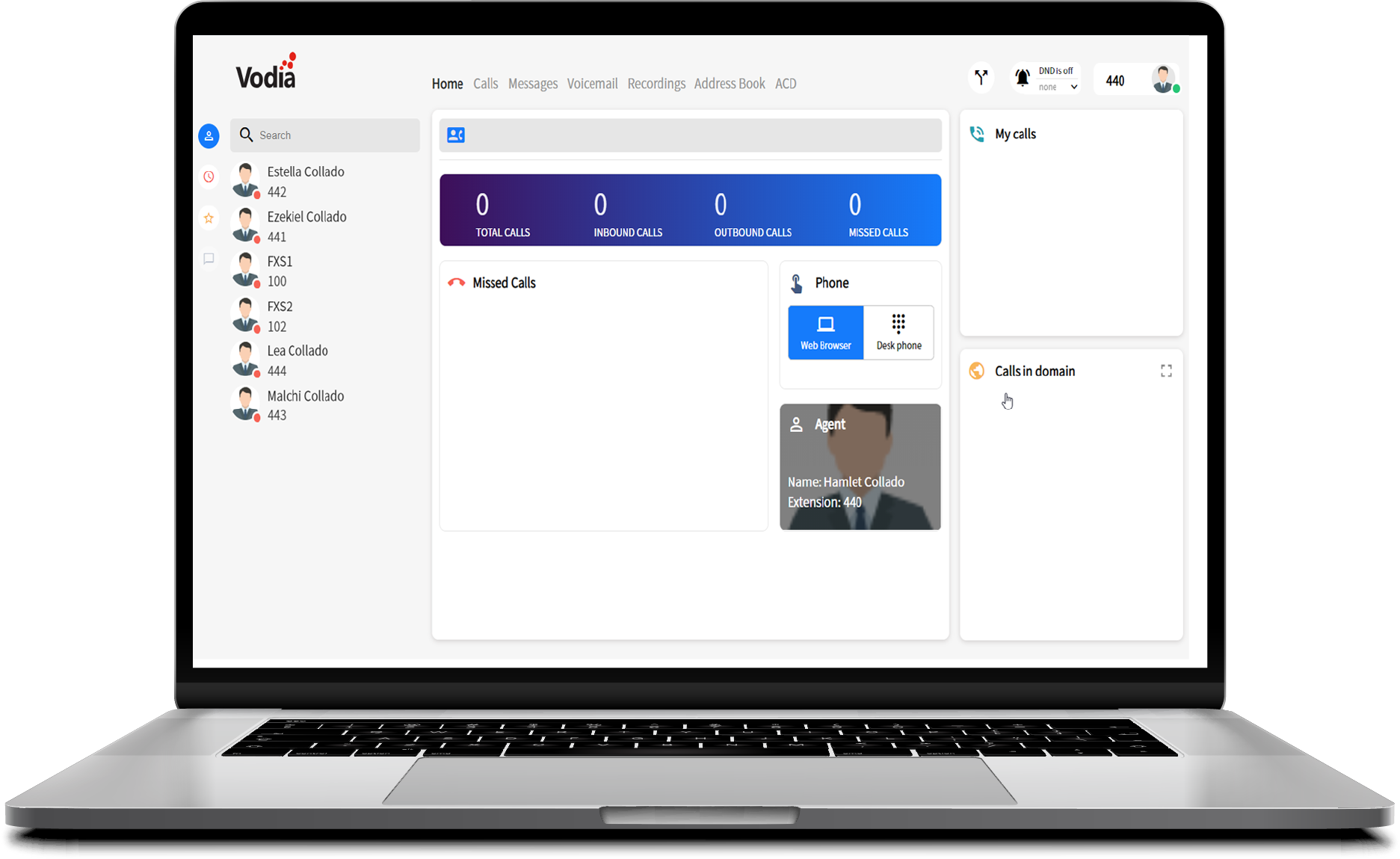 The Vodia softphone for Mac O.S is a free softphone developed by Vodia Network. It can be used to make and receive VoIP phone calls directly from your work computer using Vodia's patented WebRTC technology. Whether a small business or enterprise subscriber, your customer will enjoy the easy to use Web the interface, that allows users to make and receive calls from their workstation.
In this article, we will discuss the functionality features of the Vodia softphone for Mac O.S. 
Supported O.S 
Windows
Linux
Apple MAC O.S
App At Glance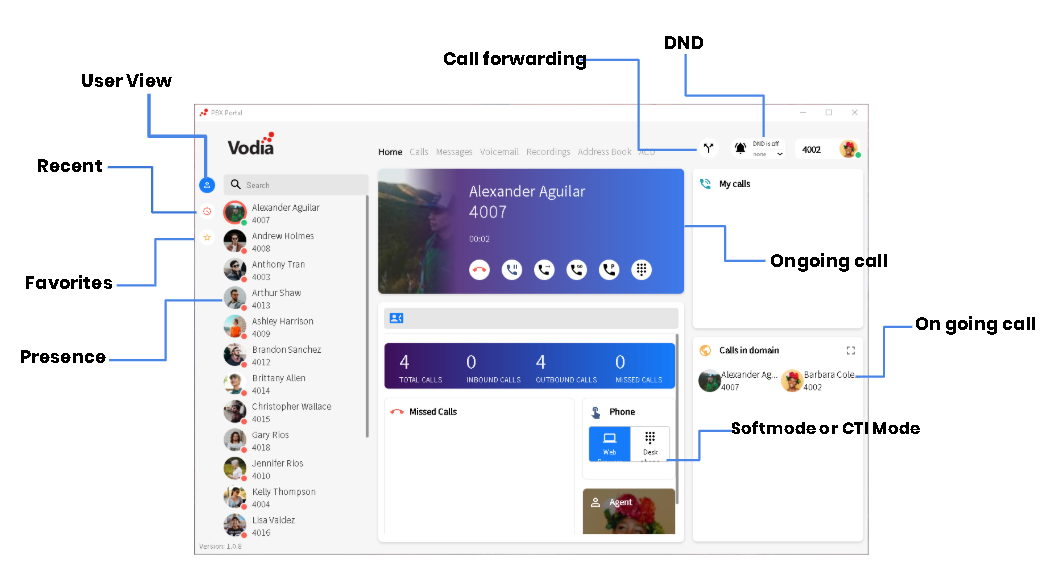 .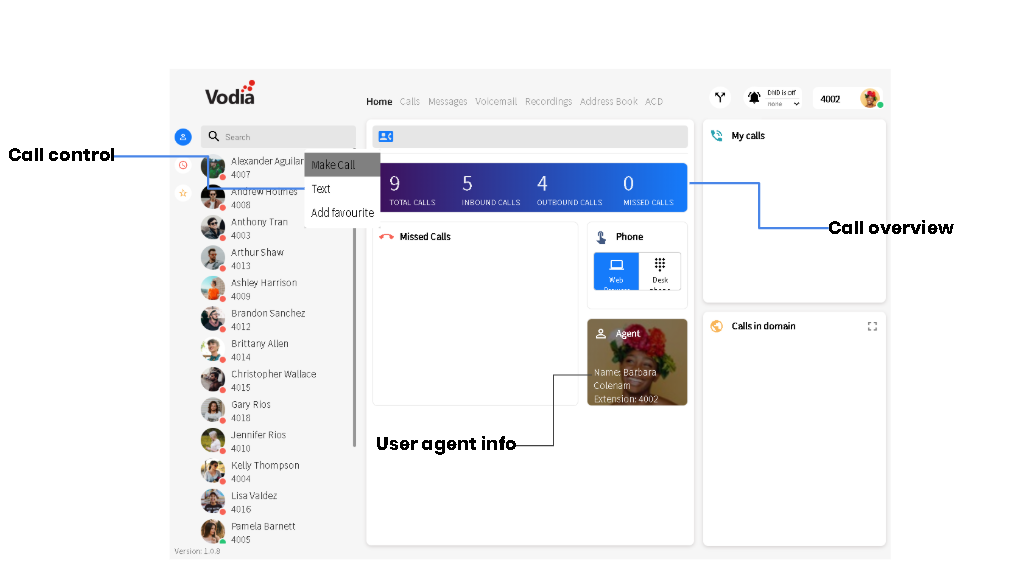 Transferring Calls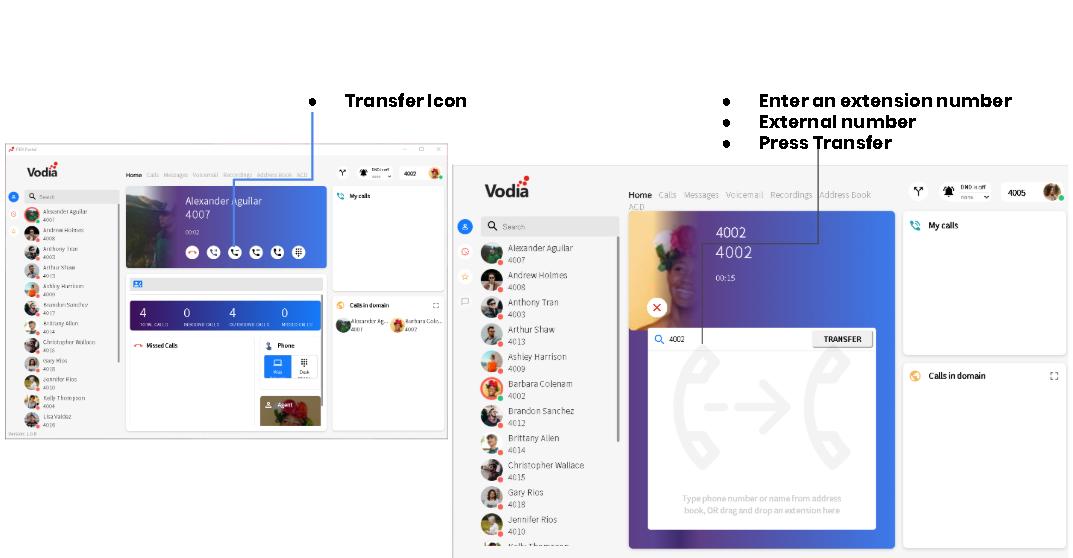 Call History
The Call tab will show you incoming and outgoing calls by date and time.  You can SMS to a number, delete or return the call.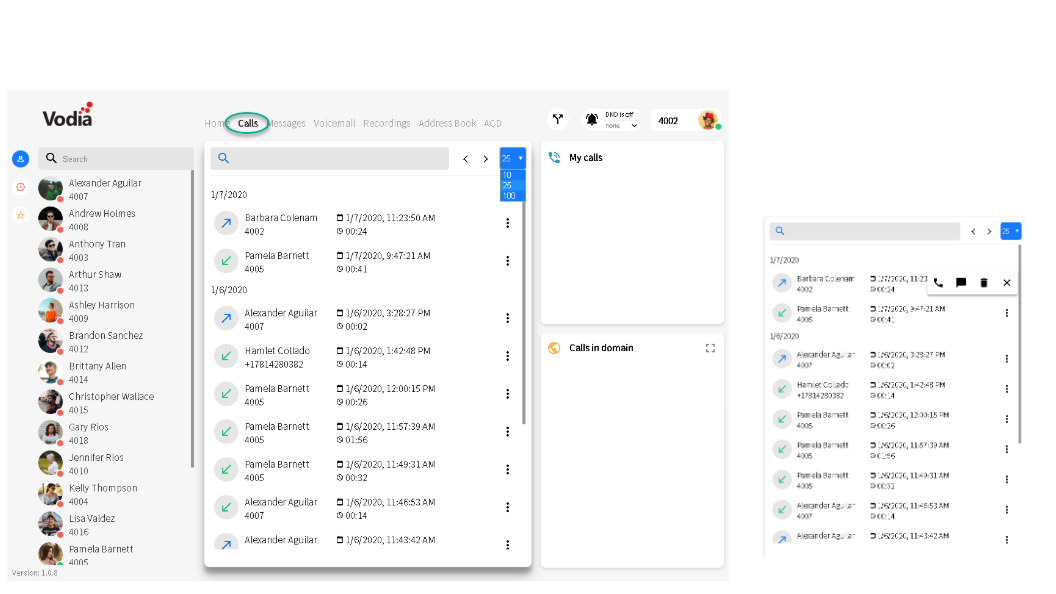 Instant Messaging
Users can send instant messaging

Receive a notification on incoming messages

Call button

New message field

Send Image button

Close Chat button
Add Private or Public notes to users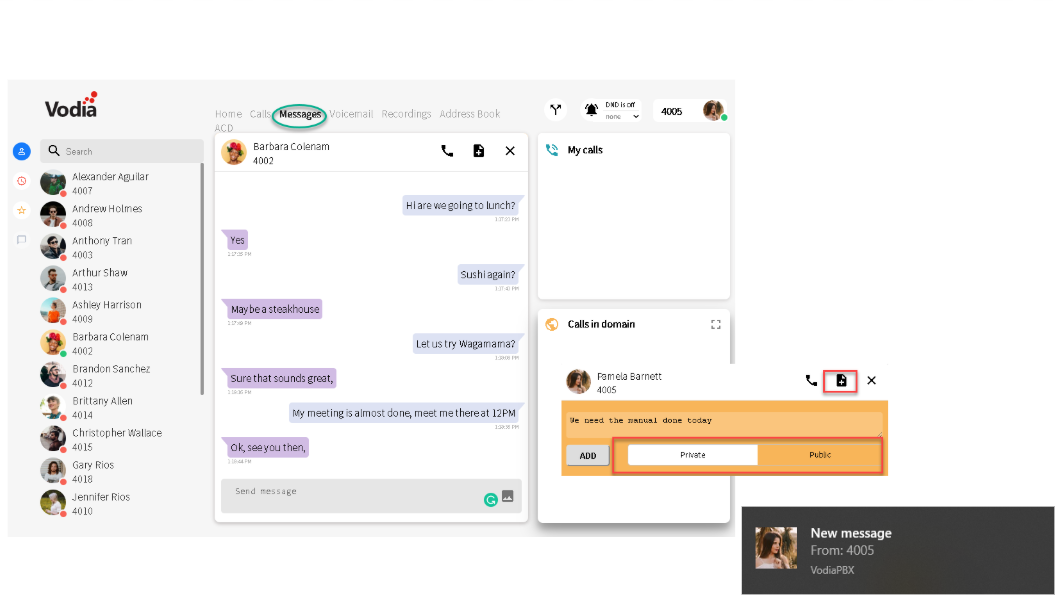 Voicemail
Users can listen to their voicemail messages, check the date and time received.
Callback 

Message or SMS 

Listen to VM

Delete VM. 

Search field

Paginator

Contacts name & number

Date and time

Voicemail duration

Click to play 

Audio player

Audio player track controls

Voicemail Menu: Call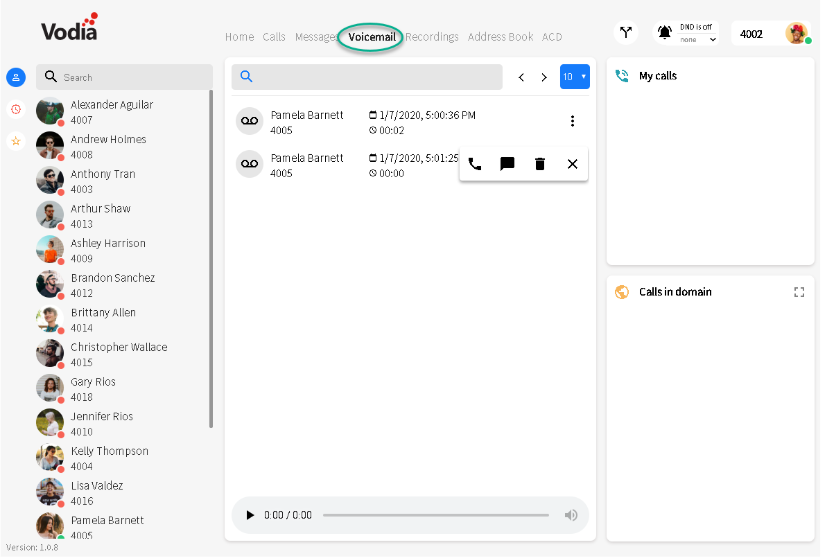 Address Book
Each user can have their own personal address book

Upload contact using a CSV format 

Users can click and call or SMS the contact

Add contacts manually 

Search bar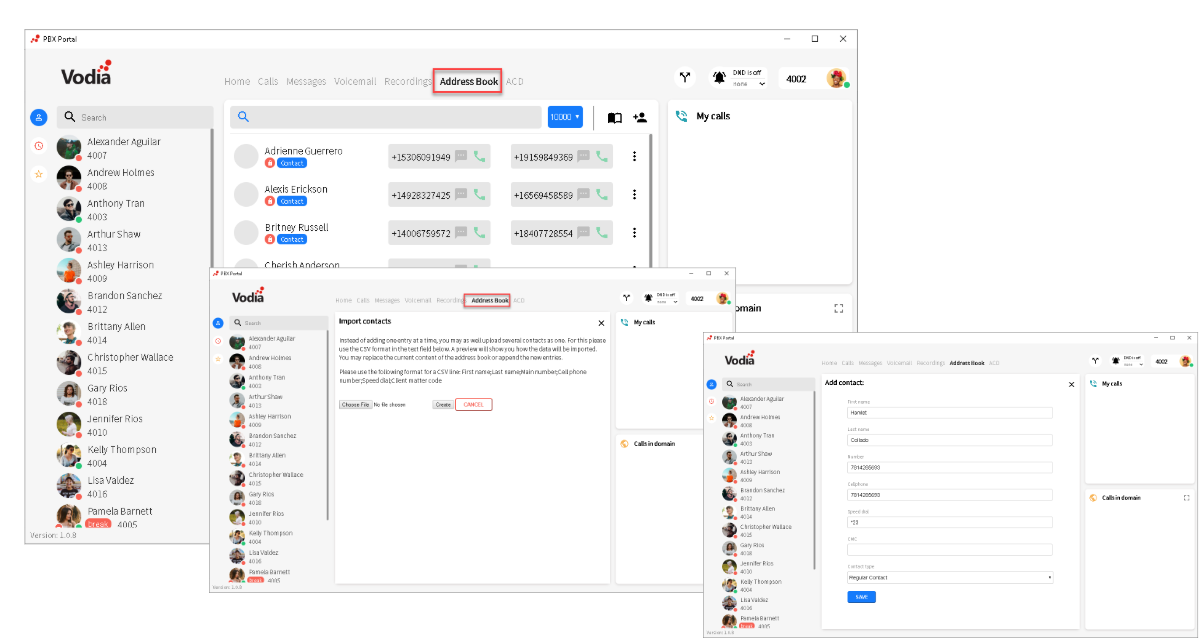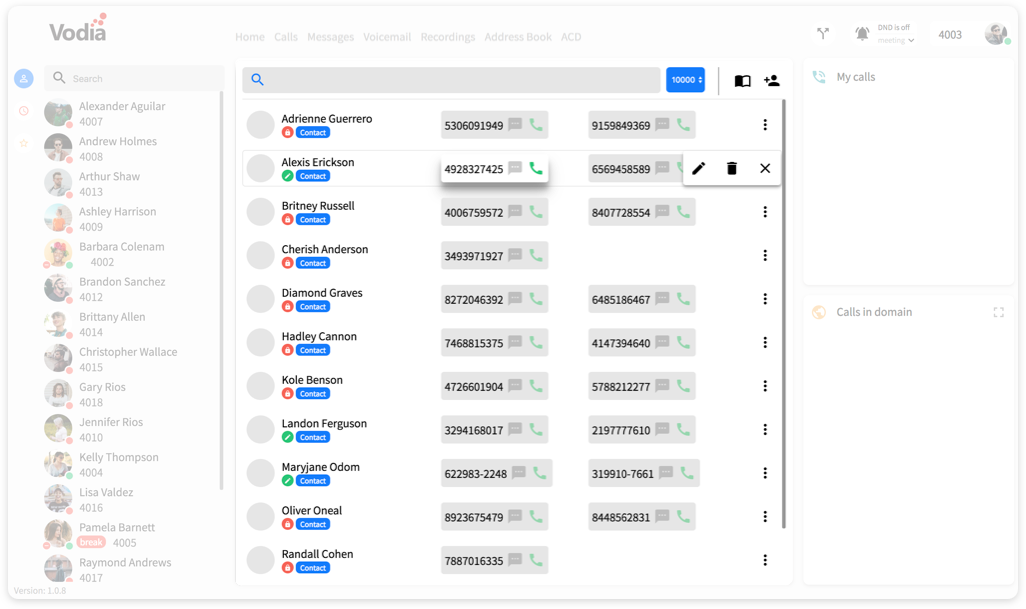 Recording
Users can activate the ad hoc recording, during a call.

The recording tab will show the latest recordings by date and time and duration.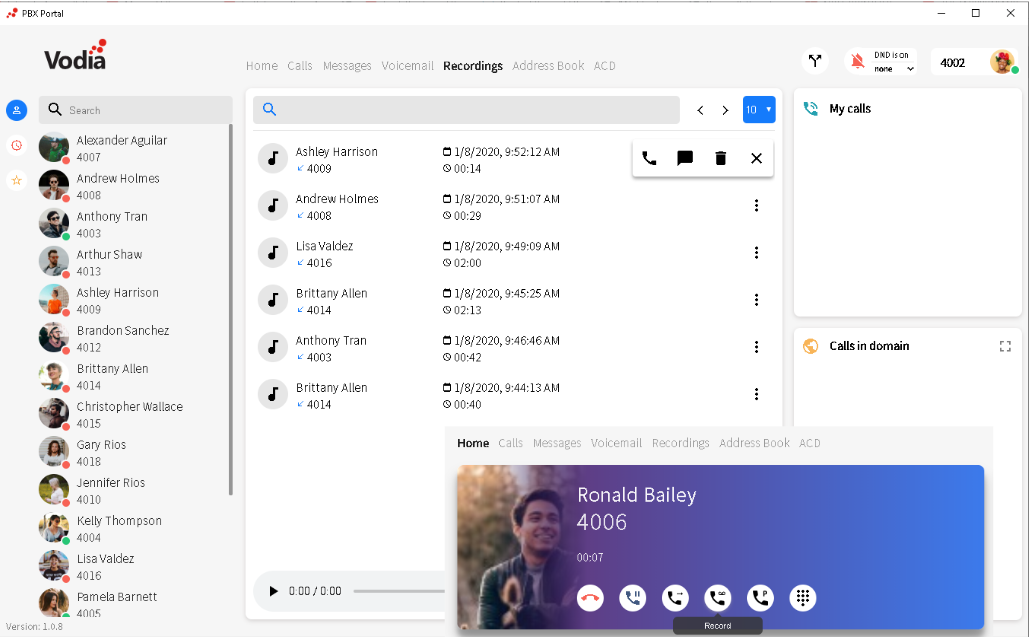 ACD (Automatic Call Distributor)
Date range dropdown

Total calls Counter

Inbound calls counter

Outbound calls Counter

Missed calls counter

Abandoned calls percentage

Transfer calls percentage

Average SOA (Speed of Answer)

Interactive SOA line chart

Hourly Speed of answer

Daily Average Speed of answer

The interactive calls bar chart

Hourly calls volume

Daily Calls count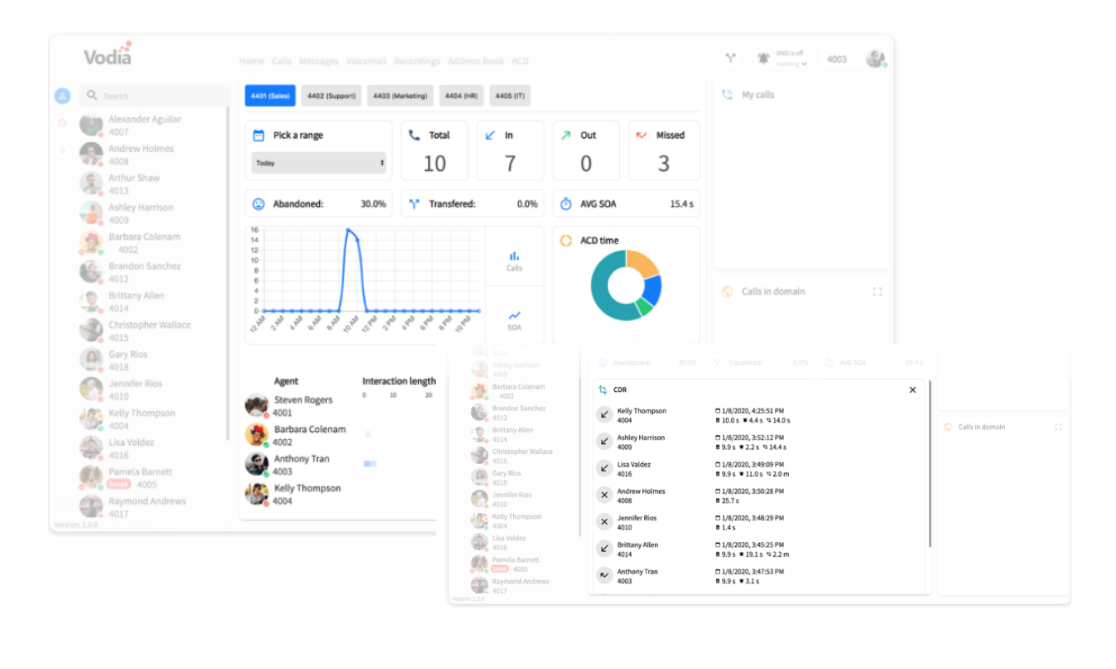 Call Redirection
User can set their own call forwarding when they need to divert calls to another user or an outside line.
Forward all calls to field

Forward on no answer field

Forward on busy field

Forward no answer timeout dropdown

Forward when not registered field

When calling the extension directly dropdown

Cell phone number field

Cell phone number (inbound only) field

Voicemail answer on the dropdown

Receive calls on app yes/no toggle

Save button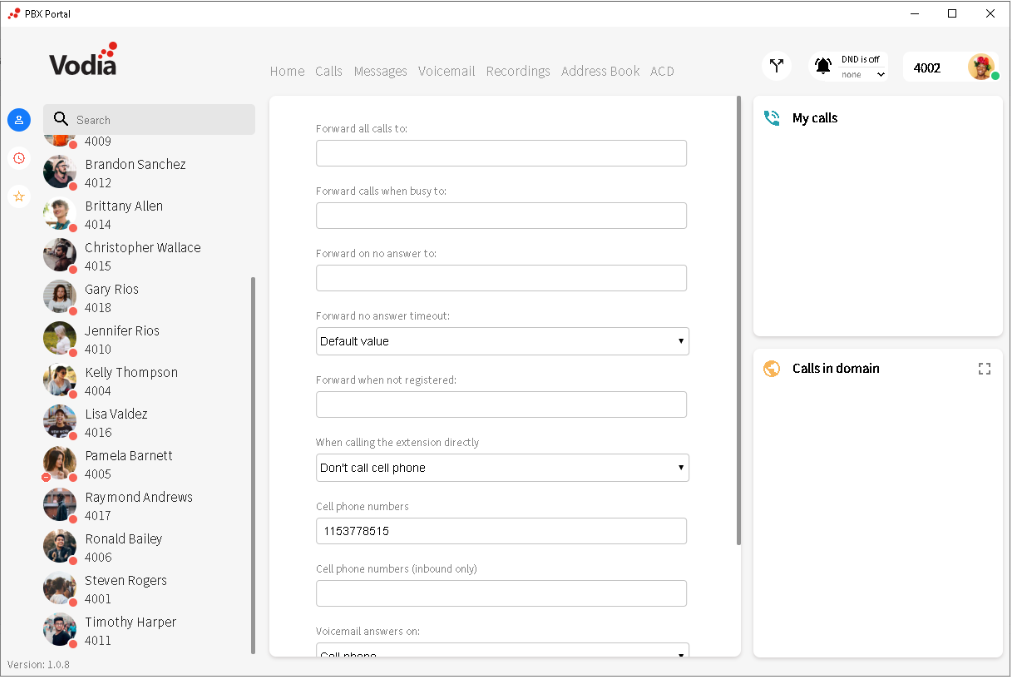 DND (Do Not Disturb)
DND on/off button

DND reasons (when on):

Meeting

Break

Vacation

DND status is displayed at the extensions list

DND icon is located on the left-hand side of the

Extensions profile picture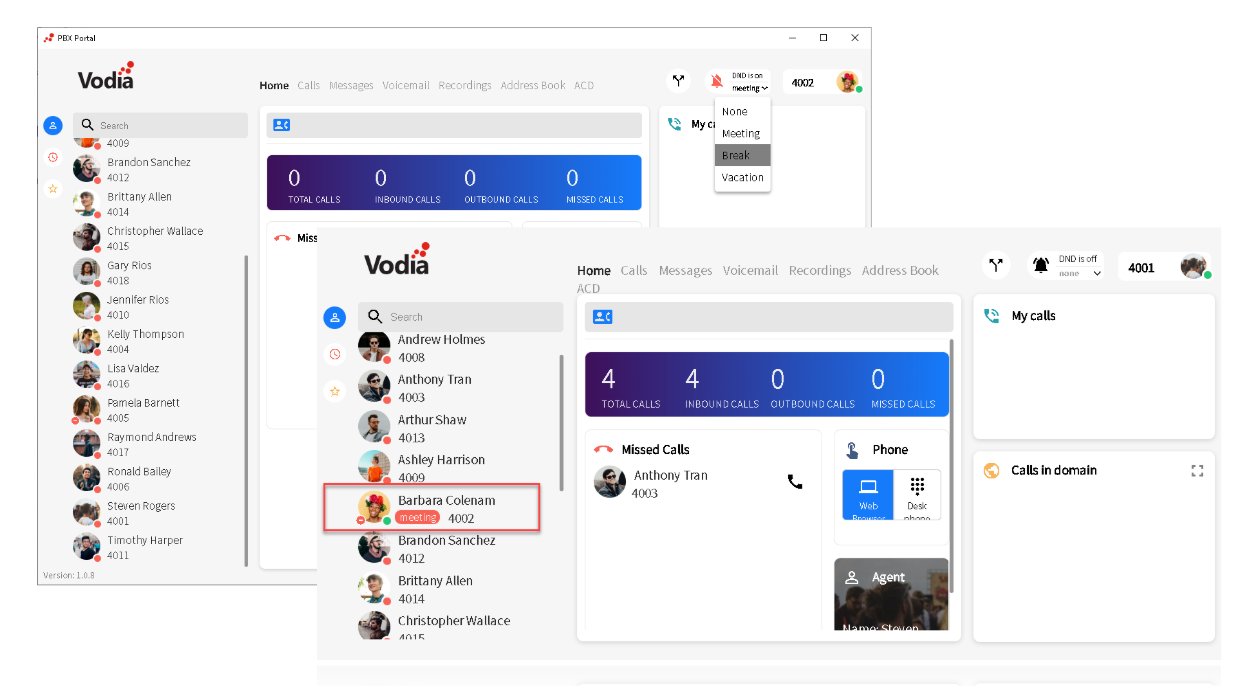 Account Settings
Upload profile picture

First name field

Last name field

Position field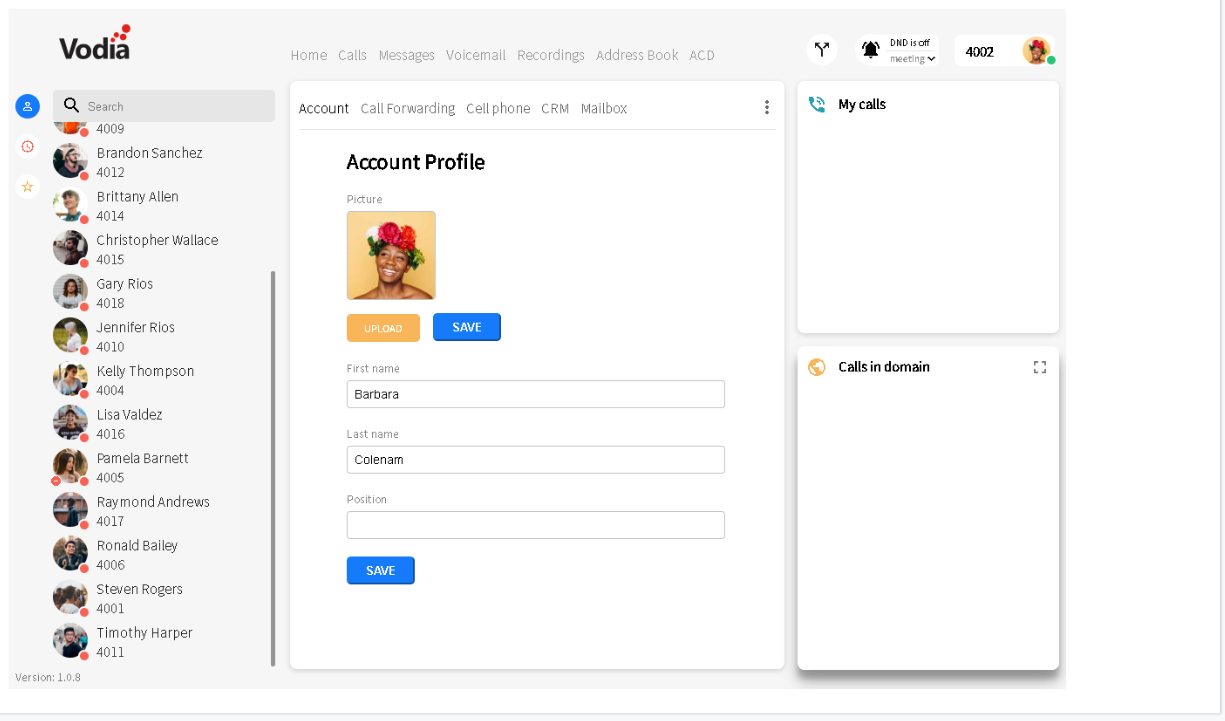 Cell Phone Settings
Offer special menu when a call is answered on cell phone toggle

Include cell phone for web callback

Specify the time when the system calls the cell phone

Numbers that will and will not get to the cell phone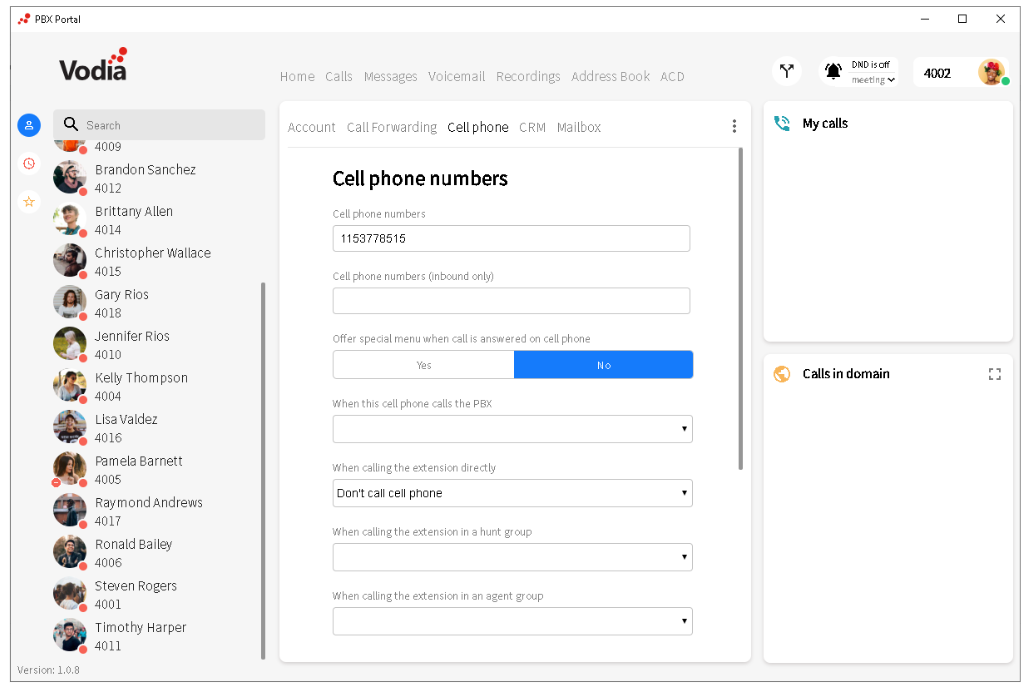 CRM Settings
Seamless integration with the most popular CRM vendors on the market.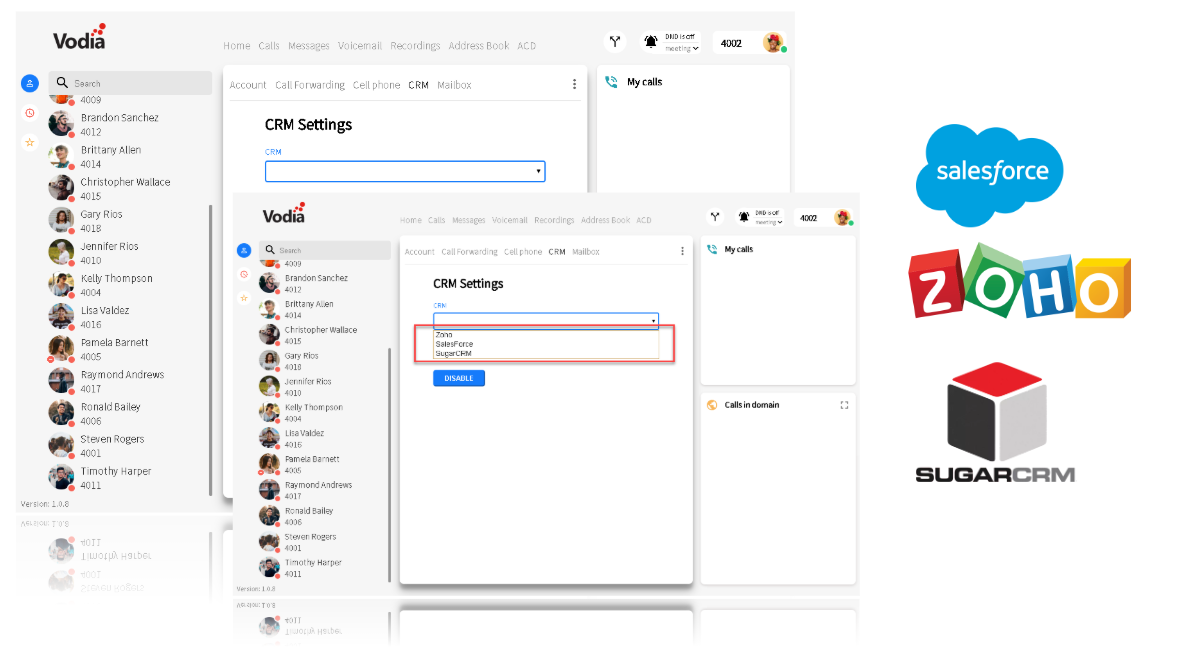 Mailbox setting
Receive inbound faxes

Disable or enable

Mailbox settings

Announcement mode

Cell phone notification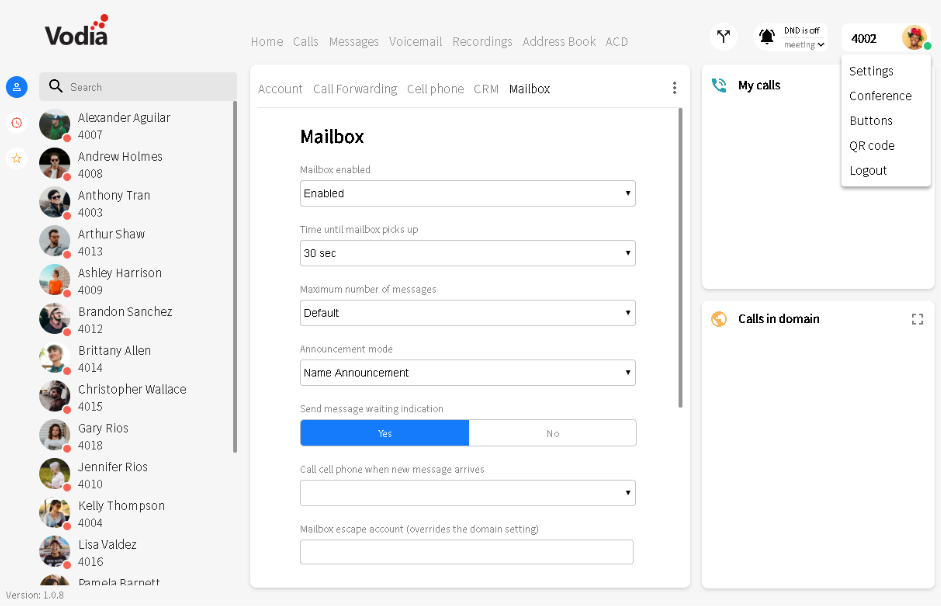 Conference
Name field

Start date picker

Start time dropdown

Duration dropdown

Participants field

Participant numbers

Automatically initiate calls at the start time

Record the conference toggle

Room dropdown

Entering conference dropdown

Exiting conference dropdown

Save button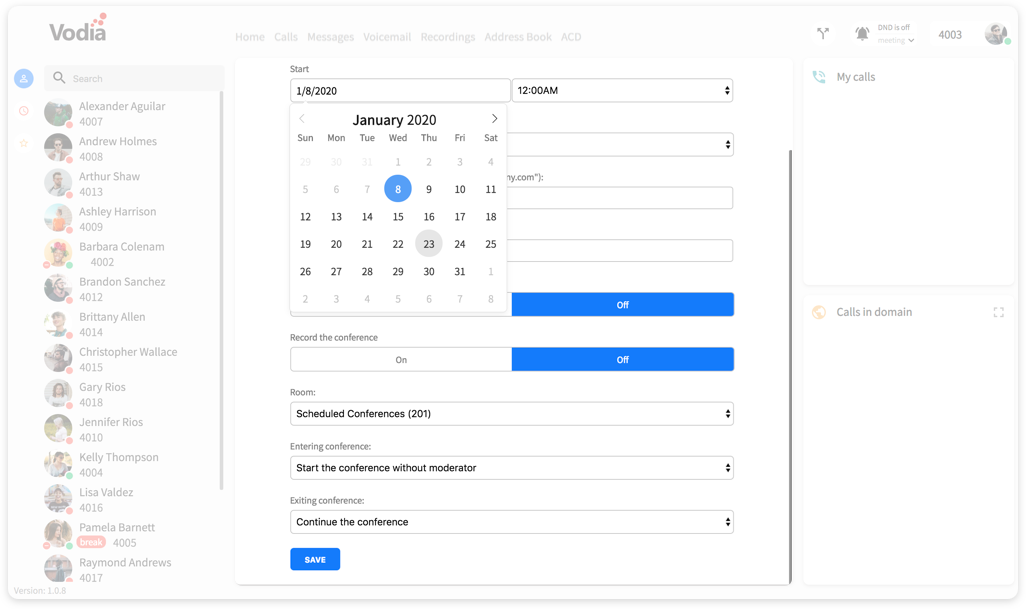 QR Code Provisioning
QR code modal

QR code icon and title

Close Button

QR code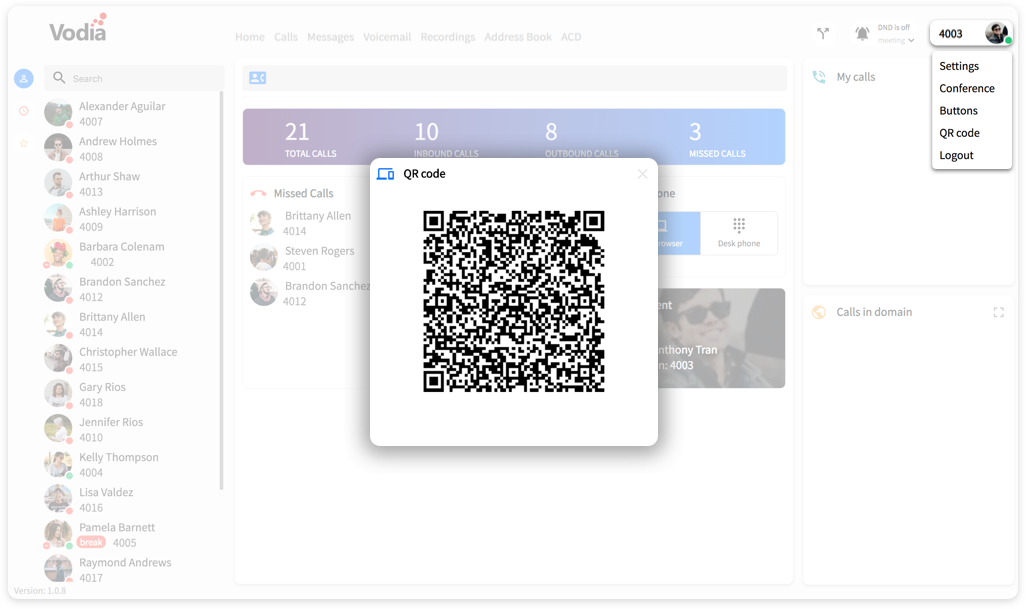 Active Box
Shows all the active calls on the domain regardless if you're on a call
Active calls in domain

Full-screen mode button

Active Caller ID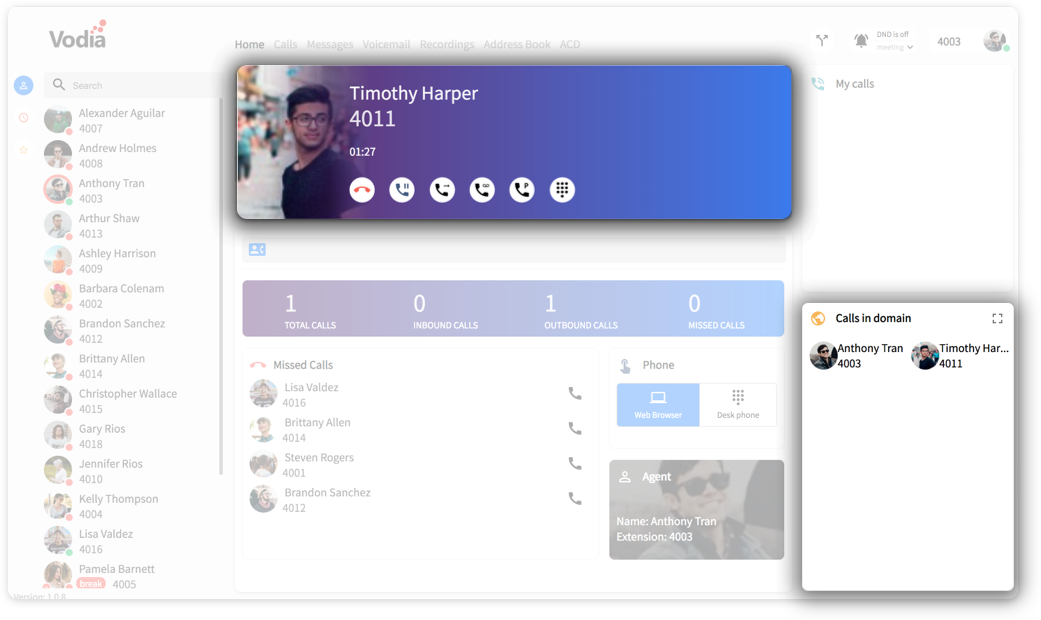 Button configuration
Select MAC dropdown with registered phones

User template dropdown

Button configuration

Save button
Any changes made in the button settings will reflect on the user's desktop phone.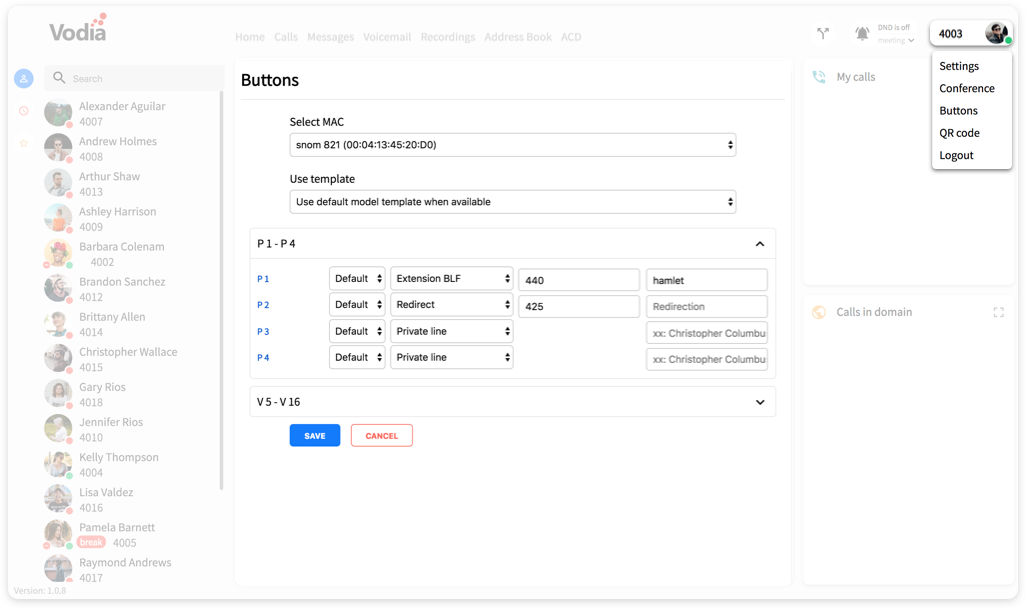 Active Call View
Persistent active call view

Contact name

Contacts number/ext

Call timer

Hangup button

Hold button

Transfer button

Record button

Park button

Dial button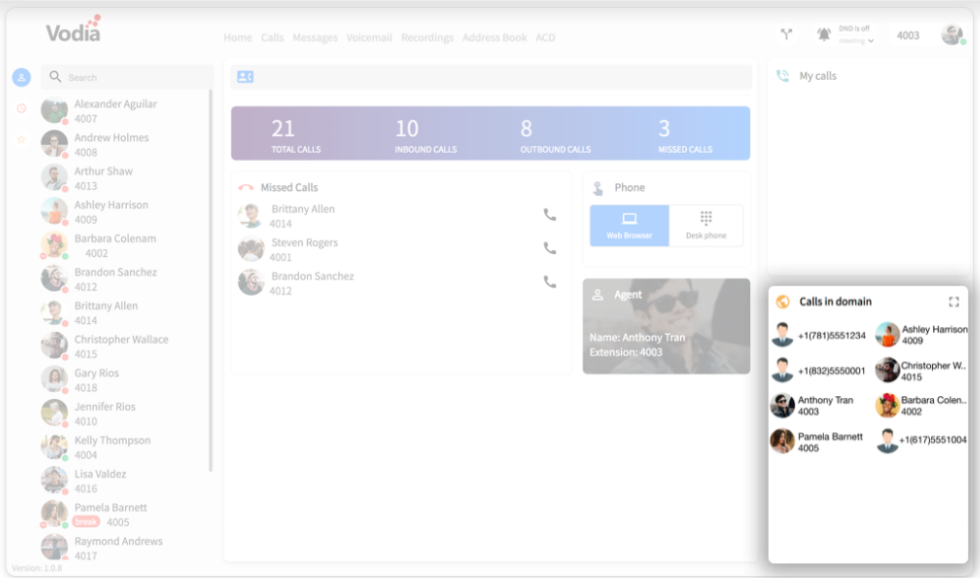 Active Call View - Dialpad
Close 

Input

DTMF buttons

DTMF special characters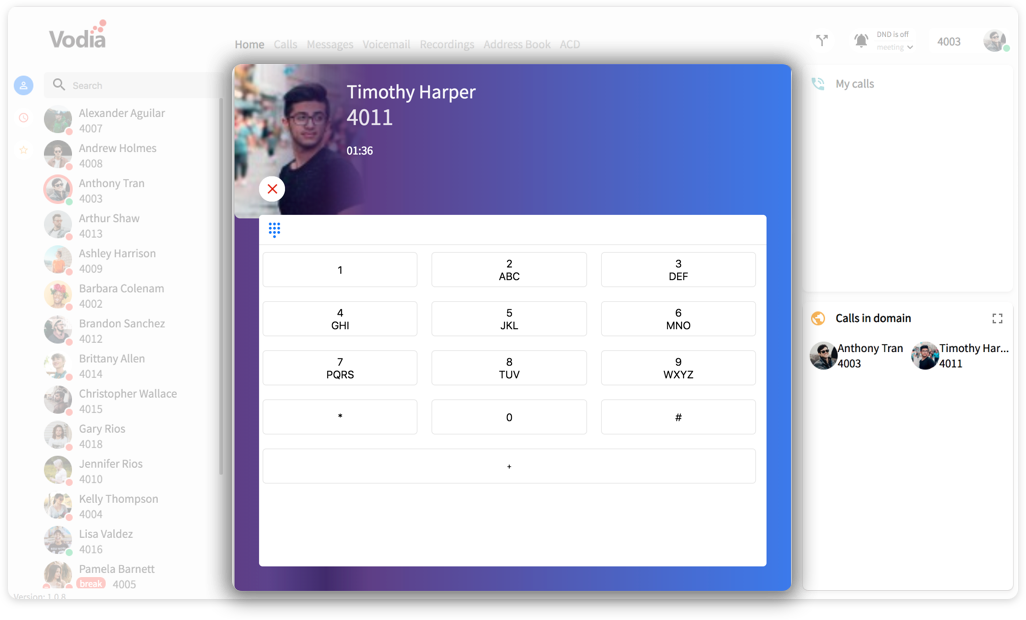 Installation prerequisite
Must run Vodia PBX 64.0 or higher

Check license maintenance for upgrade

PBX must be resolvable If hosted
Login prerequisite
URL: http://mypbx.com or if premised based IP address of the PBX

Extension: User extension

Password: Web password

Language: Choose your language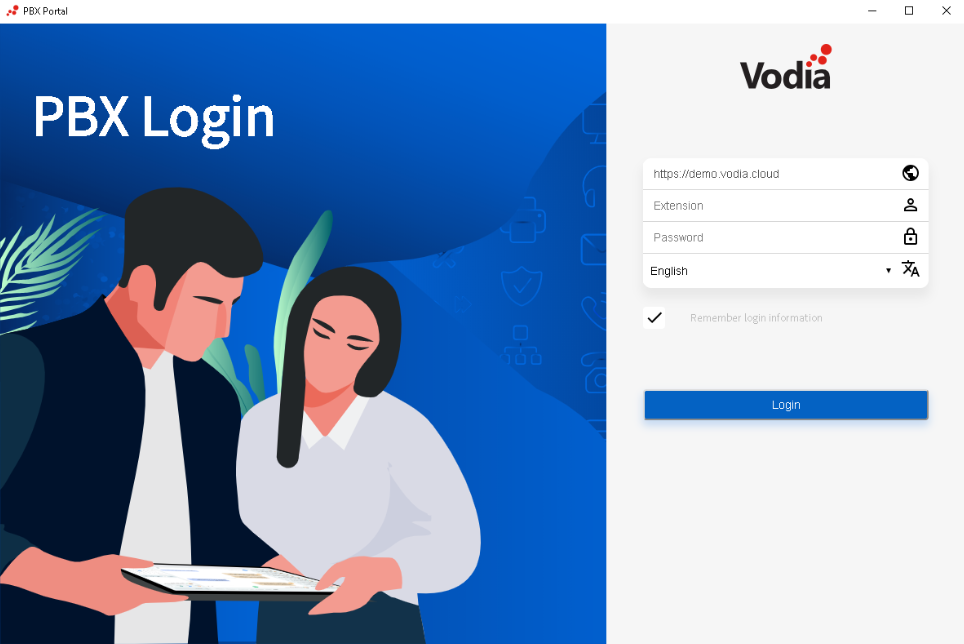 Access to Vodia Mac O.S App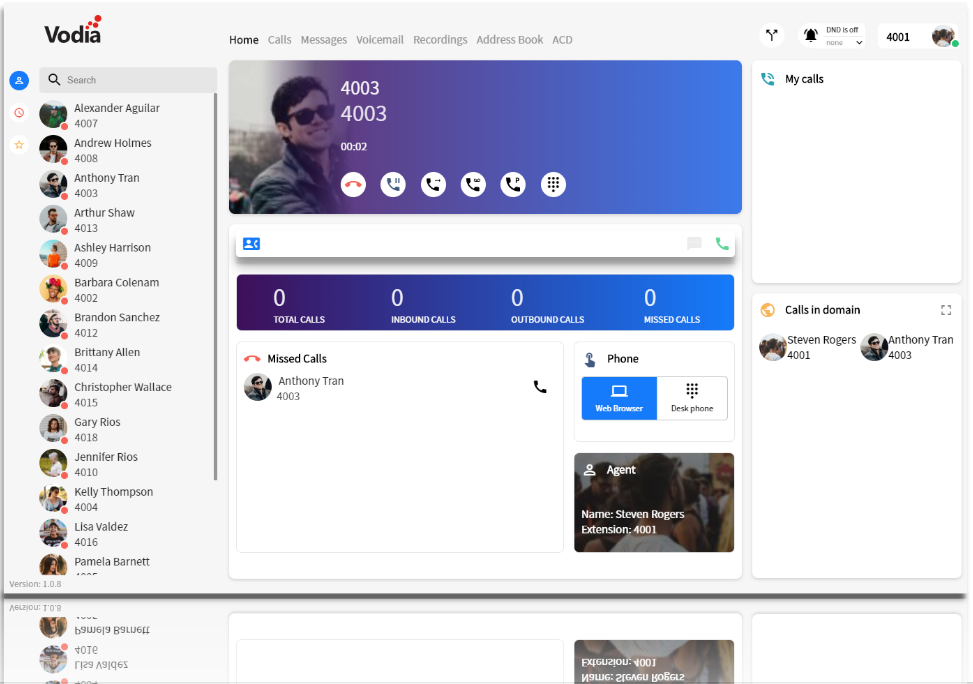 Download Vodia Mac O.S Softphone Client
macOS: http://portal.vodia.com/downloads/app/win/VodiaPBX-1.1.0.dmg
Download Vodia PBX